Drake Anthony
Professional Mad Scientist
Hey everybody it's styropyro here! My real name is Drake Anthony, and I've been making science videos on YouTube since 2006. I may not be the most sane of the video creators, but I certainly do try to make science a lot more fun than filling out worksheets at school.
For me science is life, and I feel there's no better way of getting in touch with nature than to study its underlying laws and then using them to create things. When it comes to building a new device, I'm certainly an "old school" kind of maker as I'd rather be using a hacksaw and soldering iron than designing 3D parts on a computer.
In my videos, I handle all of the building, filming, and editing by myself. This means you'll never get a set upload schedule. 😀 What I lack in video editing skills I try to make up with crazy and original content. My biggest hope as a video creator is that I inspire my viewers to see the magic of the world of science and engineering.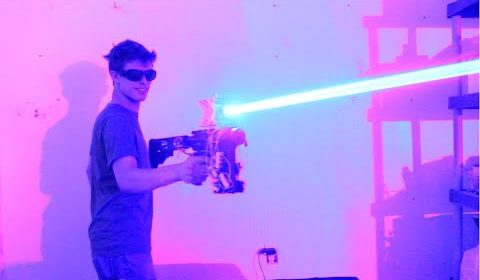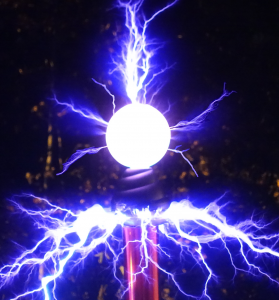 My Background in Science
One of my most asked questions is where I learned the stuff I show on my channel, and it turns out I'm actually self taught when it comes to lasers and electricity. I know my viewers are often surprised when I tell them this, but in reality I'm just one of many people out there who learned via lots of reading and experimenting on their own time.
Formally my education is in chemistry, and I received my bachelor's degree from Southern Illinois University. While completing my degree I worked as a research assistant under Dr. Boyd Goodson studying giant lasers and mega magnets (aka techniques in hyperpolarization NMR spectroscopy.)
I'm a big believer that often the best way of learning is by doing. This can mean building circuits, setting up experiments, and even grinding out practice problems in a textbook. That being said I do NOT suggest ever diving into a dangerous hobby like pyro chemistry or high voltage without understanding the risks involved as well as the underlying concepts. Believe it or not, I approached these subjects VERY slowly and cautiously, and that's why I'm still here today!
I'm 28 years old and currently live in rural central Illinois. I've lived in a rural area most of my life, and in fact I attribute a lot of my current passion in science to growing up in the middle on nowhere (where loud noises from my experiments didn't cause much of a disturbance :D)
I do have a lot of hobbies outside of lasers and electricity though! Martial arts are a huge passion of mine, and I actually teach Brazilian jiu-jitsu classes twice a week. (well I did before the pandemic) I have a brown belt in jiu-jitsu and a brown belt in judo, and I also train muay thai and boxing. My passion for martial arts started when my 8th grade science teacher convinced me to join the wrestling team and introduced me to the awesome world of combat sports. The strategy and mental aspect is unrivaled in other sports. In fact, one of the top lines on my bucket list is to compete in an MMA fight.
I love nature, and most of my hobbies outside of extreme science involve it in some way. I'm an avid gardener, storm chaser, hiker, lepidoptera breeder, and mushroom hunter. My dream is to some day have a lab on a rural farm where I can build crazy stuff, research wacky ideas, develop unique products, grow my own crops, and of course keep making crazy videos for you to enjoy!
Drake Anthony Bio
It seems those "internet celebrity" sites can't get anything right about me, so here's a table with mostly true information:
Birthday: August 20, 1992
Location: central IL, US
Height: 6′ 8″ (I'm really five foot six but I like trolling the bots)
Occupation: freelance scientist, video producer
Education: bachelor's in chemistry from SIU